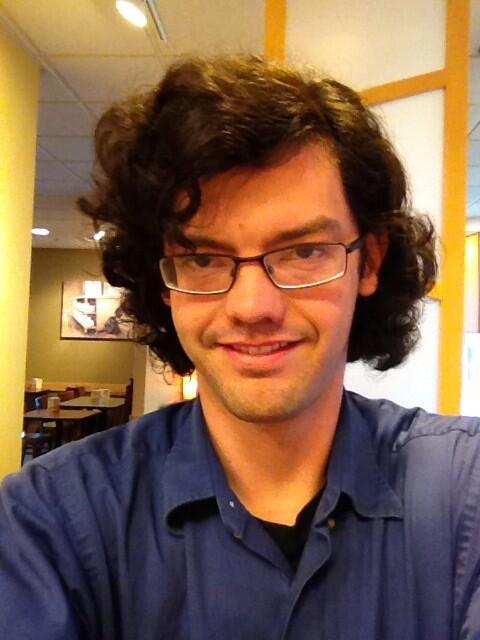 Readers, welcome Jason Patrick Crawford, a fantasy writer and one of my very cool Tweeps. He's here to talk about contemporary fantasy and he has some fantastic things to say about how a contemporary setting gives traditional fantasy a fresh new way for modern readers to relate. Check it out! 
Hello, Jason, and welcome! Tell us a little about yourself and your work.
I'm a 31-year old veteran who has been married for 9 years this May. I have three sons, aged 6, 3, and 5 months, and I work as a high school chemistry teacher at Pete Knight High School in Palmdale, CA. I've always been interested in writing, ever since my own high school experience when I was in gifted English classes and we did creative writing assignments, but I never really made an effort until my sister-in-law decided that she was going to write a book. She, my wife, and I all thought it would be a great idea to have a "writing circle" to support each other, and I found that I enjoyed writing more than…well, more than pretty much anything else I've done (besides my family, of course!)
What made you decide to write contemporary fantasy?
It was the first story that popped into my head. Seriously. I've had the germs of the ideas for my first two novels, The Drifter and Chains of Prophecy for years, kind of the "wouldn't it be cool if there was a book about this" thing. I love the idea that there could be magic hidden in our world, where most people can't see it, don't recognize it, but are affected by it.
What types of stories does contemporary fantasy make possible?
I think that contemporary fantasy allows an author to tell archetypical stories in a way that make readers comfortable and make the characters more relatable. For instance, while I love epic fantasy and ancient mythology, it is easy for me to look askance at, say, "campfire scenes" where the author writes for pages about the discussions around a campfire simply because I've never been on a months-long quest in the wilderness; if, however, a contemporary fantasy author writes about a conversation on an airplane, it's easy to imagine. Easy to buy into. This lets me tell legends without losing my audience's interest.
What audience do you think contemporary fantasy attracts? How does that alter the types of stories you tell and characters you write?
I think that contemporary fantasy attracts a few different types of people, but the people that I try to speak to most (because I am one of those) are the ones who think the world would be a better place with a little more magic, a little more mystery, a few more heroes. I like to tell stories about relatively normal people who get thrown into situations they couldn't have predicted, couldn't have expected, and yet they decide to do the right thing anyway, even when it's easier to walk away.
How does contemporary fantasy affect the stakes for your characters and your audience?
Contemporary fantasy allows the reader to get truly invested in the characters. It's easy to imagine yourself in the place of, say, an accountant from California, but it might be harder to visualize being a sword-swinging barbarian from Kaledonia (I have no idea if that's been used in a novel, any resemblance is coincidental). Of course, epic, sword-and-sorcery fantasy is amazing, and if the writing is good then it's completely engrossing, but I like to put myself in the character's shoes when I read, and the more connections I can make with him/her, the better.
As for the characters, they have to deal with the fact that, generally, what they're doing, what they're experiencing, is NOT known to society at large. No one would believe Sam, the protagonist in Chains of Prophecy, if he ran to the police to tell them that someone stole his mother's ancient book of spells and they're using them to enslave angels. They have to discover what is real, what isn't, and, usually, they have to figure out how to deal with it by trial and error, which is always fun 🙂
Why do you think people love to read contemporary fantasy? How do you think the genre affects its audience?
Besides the qualities that make anything worth reading, I'd say that contemporary fantasy is popular because it provides an element of escapism and wonder. Just imagine if the world of, say, Harry Potter or Percy Jackson were real; how would that change the way one sees, hears, perceives everything? Imagine knowing that there was magic about, but not knowing where to find it, exactly. You'd see it everywhere! I think that this is a gift given by the authors of contemporary fantasy to their audiences – the banal, everyday monotony of existence can be broken up, just a bit, by magic.
For fun, what is your favorite genre to read? Why?
I'm a fantasy reader, loving both contemporary and epic. I just finished book one of the Seeker of Truth series by Terry Goodkind, Wizard's First Rule. It was amazing. I devoured Harry Potter and Percy Jackson – the books, not the people 😉 – and loved the Lord of the Rings trilogy. I just like stories with heroes that are willing to do what is right, to give of themselves, and to prove that Good triumphs over Evil.
How can readers track you down? 
If you'd like to learn more or follow my process as I try to publish my work, you can reach me at @jnewmanwriting on Twitter, I have an author page on Facebook, and you can read my blog and other cool stuff on my website at http://www.jasonpatrickcrawford.com!
Thanks for stopping by!
Thanks for having me, Kristin!